 Friends in Action come from all walks of life and are all ages.
There are a wide variety of volunteer opportunities, including:
VOLUNTEER DRIVER
HANDY-PERSON VOLUNTEER (simple home repairs, carpentry, yardwork)
FRIENDLY VISITOR, RESPITE VOLUNTEER, COMPANION
SENIOR LUNCH VOLUNTEER (SERVER, CLEAN-UP)
OFFICE VOLUNTEER (answer phones, help with mailings and data entry, filing)
FOOD DELIVERY VOLUNTEER (deliver meals, food boxes [must be able to lift up to 30 lbs]
SHOP & DROP (take grocery list over the phone and/or do shopping in the store and deliver)
PHARMACY DELIVER (pick up and deliver medicines to the home
FUNDRAISING EVENTS (volunteers to help with all aspects of fundraising are always needed)
VOLUNTEER TRAINING
Depending on the type of volunteering, initial training may be as simple as a 30 minute orientation or it may involve one or more days of up to 9 hours for home visitors. There are now orientations that can be done by Zoom as well as an online orientation quiz. Shop and Drop volunteers have an online video that explains how to use the scheduling program.
INSURANCE
Friends in Action provides a general liability insurance for all of its activity, as well as Volunteer Insurance for all volunteer activity.
DRIVERS
You will need to provide a current, valid drivers license and auto insurance. Drivers utilize their own vehicles in most cases, although Friends in Action has a wheelchair van and a minivan that drivers can also be trained to use.REFERENCES AND BACKGROUND CHECK: All volunteers must provide three references and submit to a background check. For drivers, this is done through the Hancock County Sheriff's Department. For home visitors, this is a criminal background check done through a national database and DHHS.
ONGOING SUPPORT AND TRAINING
Friends in Action provides regular support meetings and training on various topics.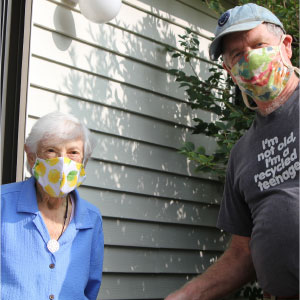 Volunteers Are The Most Important Part Of Friends In Action And Its Generous Spirit.
 All of our services depend on volunteers and we truly value them.